Honduras capital Tegucigalpa is located in the southern-central highland region of the country, within the department of Francisco Morazán. The city is nestled within a valley, where 20th and 21st century urban sprawl has forced it to creep higher and higher up on the mountain sides.
The site where Tegucigalpa is today was originally a settlement where the Pech, Tolupans and Twahkas lived. In 1578, the invading Spaniards founded a mining town here and named is Real de Minas de San Miguel de Tegucigalpa. Today, the city is often referred to simply as Tegus or Téguz.
Tegucigalpa and Comayagüela are formally two cities, separated by the Choluteca River, but they are both part of the same metropolitan area and many Tegucigalpan residents do their shopping at the big market in Comayagüela.
Safety
Just like many other parts of Honduras, Tegucigalpa and Comayagüela are plagued by violent crimes – including murder, kidnappings, robberies and rapes. It is advisable to obtain up-to-date safety information prior to your arrival and heed the various recommendations, e.g. the recommendation to not walk in the city when its dark.
Things to do in Tegucigalpa
Visit Museo para la Identidad Nacional (National Identity Museum)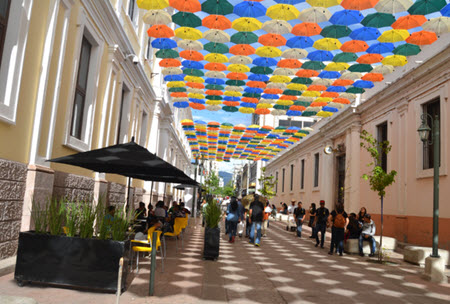 This is a museum where you can learn more about Honduran history and art through permanent and rotating exhibitions. Housed in a beautiful colonial-era building in downtown Tegucigalpa, Museo para la Identidad Nacional will take you from pre-historic and pre-columbian Honduras through colonial Honduras and into the modern independent era. Tip! Don't miss the IMAX-style animated movie about the Maya civilization. The Maya civilization developed in an area that encompasses southeastern Mexico, all of Guatemala and Belize, and the western portions of Honduras and El Salvador.
Directions: Barrio Abajo, Calle El Telégrafo, Avenida Miguel Paz Barahona, Antiguo Palacio de los Ministerios, Tegucigalpa, M.D.C.
For more information, visit min.hn.
Visit the old Catholic churches
If you are interested in old catholic churches, our three top picks in Tegucigalpa are Catedral de San Miguel Arcángel (St. Michael's Cathedral), La Iglesia de Santa María de Los Dolores and Iglesia de San Francisco. If you have time for more, include Iglesia La Merced and La Basílica de Nuestra Patrona la Virgen de Suyapa in your itinerary as well.
Go for a walk in Parque el Picacho
Parque el Picacho is a park with an entrance fee (a few U.S. Dollars) but it's well worth the cost since the park is well maintained, non-crowded and offers stunning views of the city. The name of the park comes from Cristo el Picacho – the huge Jesus statue that is a prominent landmark in Tegucigalpa.
As one can expect, there are more visitors during the weekends than during the weekdays.
Shop at Mercado San Isidro
This 16-block market is where many Tegucigalpan families make their necessary purchases and you can buy food, clothing, pottery, etc.
Walking around in the area around the market (not the market itself) is not recommended due to the high crime rate.
Things to do near Tegucigalpa
Hike in Parque Nacional La Tigra
This is a beautiful cloud forest park northeast of Tegucigalpa, home to a wide range of plants and animals, including a lot of birds.
There are several well-marked paths for walking and hiking, and guides are available for hire (but are not mandatory). You'll find more information at the visitor's centres; there is one in Jutiapa in the south-west and one in El Rosario in the north-east.
If you want to spend the night, there is a camping ground at Jucuara where you pay a few U.S. Dollars per night. There is also a hotel in El Rosario.
Stay in Valle de Angeles
Located roughly 40 km from Tegucigalpa, the town of Valle de Angeles (Valley of the Angels) offers a considerably more relaxed atmosphere than the hustling and bustling capital city. The pace of life is slower here; it's a great location if you want to explore on foot and maybe spend a few hours soaking up the atmosphere in a family-owned restaurant while sampling local cuisine and downing a few Honduran beers.
Getting to Valle de Angeles from central Tegucigalpa on the rapido-bus takes approximately 45 minutes.
Arriving by air
Located approximately 6 km from downtown Tegucigalpa, the Toncontín International Airport (IATA: TGU, ICAO: MHTG) is Honduras main civil and military airport and serviced by several international airlines. An alternative name for this airport is Teniente Coronel Hernán Acosta Mejía Airport.
The approach to the airport is difficult even for skilled pilots, especially in bad weather. The mountains are close by and the runway is notoriously short. The History Channel program "Most Extreme Airports" ranked it as the second most dangerous airport in the world. For a long time, the runway was only 1,863 meters long, but it has now been extended to 2,021 meters.
Examples of airlines that fly to Toncontín International Airport are American Airlines (from Miami, USA), United Airlines (from Houston, USA), Delta Airlines (from Atlanta, USA), Copa Airlines (from San José, Costa Rica), and Avianca (from Miami-USA, San Salvador-El Salvador, San José-Costa Rica, and Guatemala City-Guatemala).
Arriving by bus
Examples of well-known long-distance bus companies that have buses going to Tegucigalpa from neighbouring countries are Hedman Alas, Ticabus and TransNica. Empresa de Bus Cristina have domestic long-distance buses going between Tegucigalpa and La Ceiba on Hondura's northern coast.
Hedman Alas have stops in Tegucigalpa, Siguatepeque, San Pedro Sula, Aeropuerto Internacional Ramon Villeda Morales, La Ceiba, Muelle, Copan Ruinas, Guatemala City (Ciudad Guatemala), and Antigua.
TransNica have buses going to Tegucigalpa from San José, Costa Rica and Managua, Nicaragua. You can chose between standard trip and executive trip. For some of these buses, it is possible to get on the bus at other stops than the capital cities (e.g. Leon in Nicaragua).
TicaBus have buses going all the way from Mexico through Guatemala and to Honduras, with Tegucigalpa being a major stop. These bus routes continue from Tegucigalpa to El Salvador, Nicaragua, Costa Rica and Panama.
If you arrive to Tegucigalpa after dark, please be advised that it is not safe to walk to your lodgings. If you arrive to the Comayagüela area, walking around is considered unsafe even during daytime.
Arriving by train
There is no railway to or within Tegucigalpa.