Costa Rica (República de Costa Rica) is a Central American country bordered by Nicaragua in the north and Panama in the south. Costa Rica has over 1,000 kilometres of Pacific coast and more than 200 kilometres of Caribbean coast.

cr
In the year 2016, nearly 3 million foreigners visited Costa Rica, making it the most visited nation in Central America. Roughly one third of the visitors came from the United States and over 400,000 from Europe. Many visitors come to experience Costa Ricas amazing nature; the country is famous for its environmental policies and extensive national parks and protected areas. In 2012, it became the first country in the Americas to ban recreational hunting.
Costa Rica's economy used to be heavily dependent on agriculture, including export cash crops such as bananas. Today, the economy is more diverse thank's to substantial investments in ecoturism, pharmaceutical production and the finance sector. Since the end of the 1900s, tourism has earned more foreign exchange than the combined exports of coffee, pineapples and bananas.
At the 2011 census, the Costa Rican population was roughly 4.6 million and almost 25% of the residents lived in the metropolitan area of San José in the central part of the nation.
Short facts about Costa Rica
Name
República de Costa Rica
Official language
Spanish
Recognized regional languages
Bribri

Mekatelyu

Patois

Population
4,6 million (2011 census)
Area
51,100 square kilometres

(19,700 square miles)

Capital
San José

(Coordinates: 9°56′N 84°5′W)

Currency
Costa Rican Colón (CRC)
Traffic
Drives on the right
Time zone
UTC -6
Calling code
(+) 506
Internet TLD
.cr

.co.cr
Ecology & Ecotourism
Costa Rica is famous for its biodiversity and extensive protected areas, and is one of the pioneers in the field of ecotourism and sustainability. Roughly one quarter of Costa Rica's land area is located within national parks or otherwise protected areas, and in 2016, an amazing 98% of the country's electricity came from renewable sources.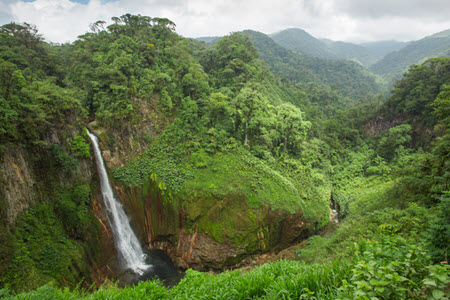 In the 1970s and 1980s, deforestation was a major problem here, but through various policies Costa Rica has managed to reduce the deforestation pace to almost zero. In 1996, Costa Rica enacted a law that created direct financial incentives for landowners to provide environmental services, and this law helped reorient landowners towards more sustainable use of their forests.
One example of Costa Rica's astonishing biodiversity is the 840+ species of birds identified here, despite the fact that the nation is roughly the same size as Ireland. The avian population of Costa Rica is an eclectic mix of North American and South American species, and includes well-known birds such as the Scarlet Macaw and the Keel-billed Toucan.
One of the many national parks sought out by ecotourists in Costa Rica is Corcovado National Park, home to tapirs, monkeys and big cats. This is where you can see all four species of monkey native to Costa Rica: the Mantled Howler, the White-headed Capuchin, Geoffroy's Spider Monkey and the Central American Squirrel Monkey.
Gambling
Costa rice offer a lot of opportunists to gamble.  They offer a large selection of casinos.  There are several in Central San Jose as well as in most other cities and resort towns.
Costa Rica is also a popular place to incorporate online gambling businesses . A lot of online casinos operating on the US market are based in and licensed in Costa Rica. This places them outside of US jurisdiction and makes it hard for the US government to shut them down.    Costa Rica also license binary options brokers.
The regulation for casinos and binary options are very operator friendly and I do not recommend that you gamble in any casino that is licensed in Costa Rica nor that you trade in binary options brokers based in Costa Rica.   There are several US regulated brokers such as Nadex.  It is a lot safer to trade with one of these brokers.
Geography
Costa Rica consists of coastal plains separated by rugged mountain ranges that runs through the interior and forms the "spine" of the country, separating the Pacific side from the Caribbean side.
Mountain range
Information
Cordillera de Tilarán
Located in the province of Guanacaste, this range is a part of the Continental Divide. Further east, it runs into the Cordillera Central.

Monteverde Cloud Forest Preserve, a major tourist attraction, is found at the edge of Cordillera de Tilarán.

Cordillera Central
This range continuous the Continental Divide east of Cordillera de Tilarán.

Cordillera Central has four large volcanoes:

Barva
Irazú
Poás
Turrialba

Cordillera de Guanacaste
This range forms part of the Continental Divide, and is found near the Nicaraguan border.

There are five large volcanoes here:

Arenal
Miravalles (extinct)
Orosí
Rincón
Tenorio

Cordillera de Talamanca
Cordillera de Talamanca is largely found within the park La Amistad, a nature park shared between Costa Rica and Panama.

Cordillera de Talamanca is home to Costa Rica's two highest peaks; the Cerro Chirripó and the Cerro Kamuk. At 3,819 meters above sea level, Cerro Chirripó is the 5th highest peak in Central America.

The northernmost portion of the Cordillera de Talamanca is known as Cerros de Escazú and borders Costa Rica's Central Valley.
Climate
Costa Rica enjoys a tropical climate, but it can be quite chilly at times up in the mountainous parts of the country. The coastal lowlands has a mean annual temperature around 27 °C (81 °F), while the mean temperature is approximately 20 °C (68 °F) in the main populated areas of the Cordillera Central.
The capital of San José, located in the Central Valley, experiences little variation in average temperature throughout the year. The hottest month in San José is April, with an average temperature of nearly 24 °C (75 °F), while the coolest month is October, where the average temperature is just a few three degrees lower than for April.
Costa Rica has a rainy season and a dry season, with this distinction being more noticeable in some parts of the country than in others. Generally speaking, the dry season starts in December and goes on to April or May. In Costa Rica, this part of the year is referred to as summer (verano). With an annual rainfall that exceeds 5,000 mm (almost 200 inches), the Caribbean slopes of the Cordillera Central mountains is the wettest part of the country.